This is the third installment in a Q&A series with Laura Ann Sweitzer. (Link to the first & second installments at the end!) We did the Q&A over Instagram DM in July 2019 and shared the convo via screenshots. The convo is saved in my  and the full transcript is below.
Laura Ann Sweitzer is the Director of TCHO Source, TCHO's unique program for addressing challenges in the cocoa supply chain.  Sweitzer also purchases all of the cocoa beans and cocoa products used by TCHO.  In addition to working closely with TCHO's suppliers, Sweitzer focuses on quality and flavor at every step in the sourcing and chocolate making process.  
Prior to joining TCHO in 2014, she spent 5 years working on coffee quality improvement projects in Latin America, Africa, and Asia. Sweitzer grew up on a farm in the Midwest and is passionate about sustainability, equity, and flavor in food.
Where We Left Off
LAS: Yes that's how the stabilization fund will work. It will be filled when the FOB price (before adding the LID) is higher than $2,600 and depleted to guarantee the minimum farm gate price when the FOB price (before adding the LID) is below $2,200.
UM: Ok got it! One thing I really admire about this is …
Better Together
UM: One thing I really admire about this is that it seems like a lot of groups holding different interests worked together to create this initiative.
LAS: It's really exciting! There are some valid concerns – but so many times the actors most vocal with concerns – also have a vested interest in keeping cocoa prices low.
This new initiative will force everyone to build higher cocoa prices into their margins/cost of business.
UM: That is really incredible. I'd be curious to learn about similar measures introduced for other crops!
LAS: Me too!
One more point about the LID initiative. In the middle price band – when the stabilization fund isn't being depleted or added to – there are funds to increase the money going to farmers (over the min farm gate price) and to the government.
Ghana and Ivory Coast propose using their additional funds to address  some of the biggest concerns surrounding this initiative.  Three of the big ones are that the higher price will incentivize: over supply of cocoa, additional clearing of protected lands for cocoa production, and additional production using child labor and forced labor.
The governments were clear they wanted to address low prices first, but promised additional details on how they will use their cut to address these areas.  So that's something for us all to keep an eye on as we continue to build on/improve upon this positive initiative!
UM: This is a really exciting and interesting initiative and I'm very curious to see how it develops! Thank you so much for taking the time to explain this, it's a lot to wrap my head around! So thank you so much for your patience 🙂
I think there are so many great takeaways and a lot of food for thought for coffee folks. I'm particularly interested to see how the threat of oversupply is addressed.
LAS: It is a lot! For me, the graph from Blommer and the example in this official communication are the best way for me to digest: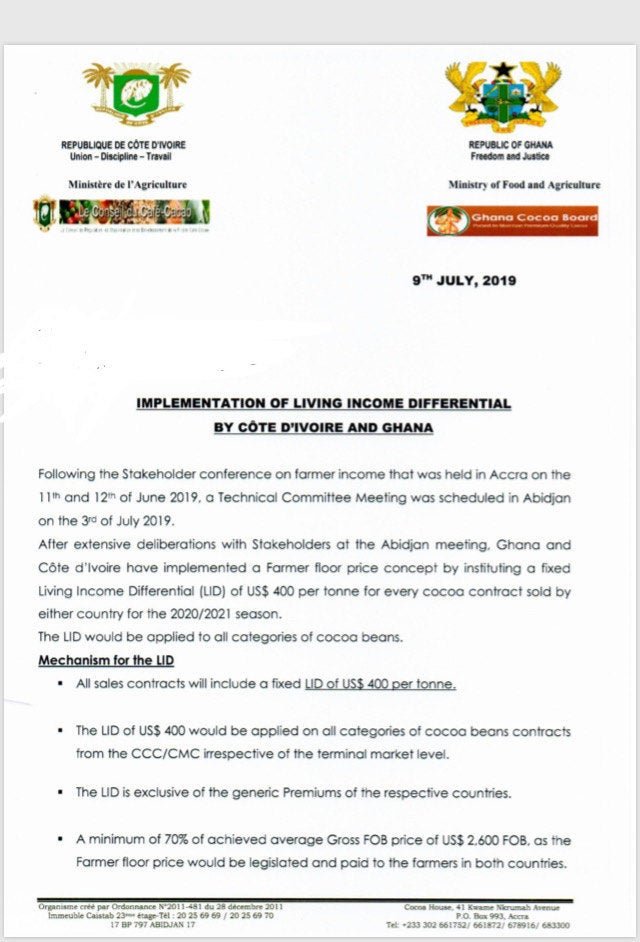 UM: Thank you for sending these!
LAS: It's empowering to see buyers agree to producer-led solutions.  While coffee growers and overall production are significantly less consolidated than cocoa, there is already movement to organize as many producers as possible to address the crisis in coffee through minimum price requirements.  In this article (link) focused on coffee, the LID initiative is referenced 🙂
UM: Thank you so much for this link! And thank you so much for your time Laura. As always it is such a pleasure! I really appreciate you taking the time to share about how other industries are tackling price issues for their export crops.
We all have so much to learn from each other and I hope to see coffee and chocolate continue to stay connected and up to date with each other. So thank you!
LAS: YES!! Thank you for the chance to share about this new initiative.  I look forward to following its roll out and staying in touch about what we learn. TCHO has learned so much from the Specialty Coffee Community!
Umeko I'm a huge fan of your social media. You bring so much great and necessary content.  Thanks again for the chance to exchange ideas here 🙂
UM: Gosh thank you so much Laura 🙂 and right back at you, I'm a huge fan of the work you do at TCHO. It's truly so groundbreaking! We'll talk again soon 😊
The first installment in this series here. 
The second installment is here.
TCHO Chocolate is online at and Instagram at Umeshiso is on Instagram at